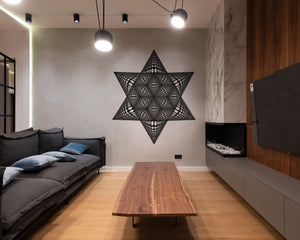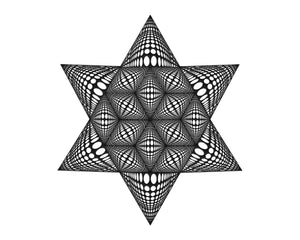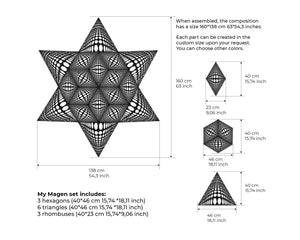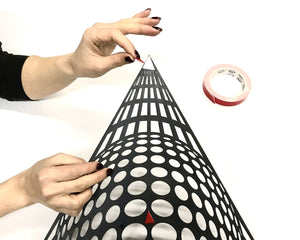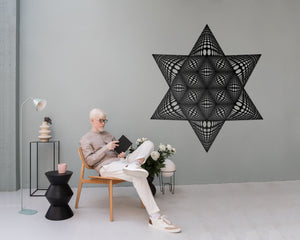 Unique author's design
Astonishing optical illusion that fulfills your interior
Clarity and elegance of lines ensured by precise laser cutting
3 types of elements that you can combine as you like or use a pre-set
Spectacular black color applied with a sprayer. Upon request, you can choose other colors, and choose a glossy or matte finish
Covered with a water-based acrylic paint; non-toxic, odorless, resistant to abrasion.
Can be attached to the wall or other surface with double-sided tape or quick-drying construction glue
Easy to assemble DIY; Does not require professional help to mount.

set includes:
3 hexagons (40*46cm 15,74 *18,11 іnch)
6 triangles (40*46сm 15,74 *18,11 іnch)
3 rhombuses (23*40cm 9,06*15,74 inch)
Thickness 3 mm, double-sided tape.

The beauty and the power of ancient symbol is contained in the heart of these compositions to protect, inspire and preserve traditions.

Magen is a symbol of divine protection. It harmonizes male and female energy, much like a Yin/Yang symbol. For Christians each of the points is representative of six attributes associated with God: love, mercy, power, wisdom, majesty, and justice. For Jewish the Star of David is unique visual picture of the 7 Days of Creation. Six-pointed star receives form and substance from its solid center. This inner core represents the spiritual dimension, surrounded by the six universal directions similar to the seventh day gives balance and perspective to the six weekdays.
Age verification
By clicking enter you are verifying that you are old enough to consume alcohol.