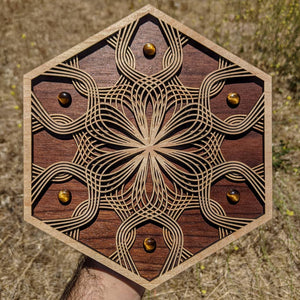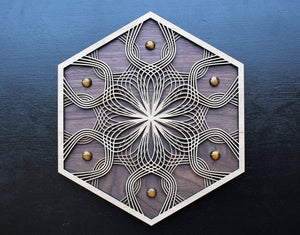 'Vibrational Seed' Wall Art design by Marc Krell. 10 inches tall, laser cut from 3 layers of hardwood-veneered plywood (Maple, Birch, Walnut), finished by hand and ready to hang with a laser cut wooden hanger on the back. Six 12mm Tigereye gemstone cabochons placed symmetrically through the design.
Tigereye is great for meditation in your zen space. It is associated with Strength, Vitality, Mental Clarity, Balance, Logic and Taking Action, which all help you work towards manifesting your goals in life.
Please note that due to the natural origin of our hardwoods, the exact tone of and detail of each piece of wood will vary. Each piece is hand finished and hand selected to our quality standards, but we cannot control for any natural variation in the grain of the wood.
We do all of our woodwork and laser cutting in house, taking pride in our ability to create to the highest quality. We choose to use a natural mineral oil and sealant to show off the grain of the wood, rather than using stains or dyes.

Created by LaserTrees. All of our hand-finished products are shipped from California, where they are produced as they are ordered. Please allow us a 1-2 week lead time to create and ship your order. 

Age verification
By clicking enter you are verifying that you are old enough to consume alcohol.