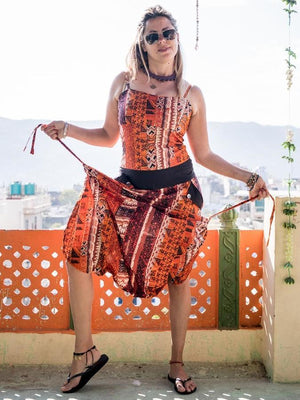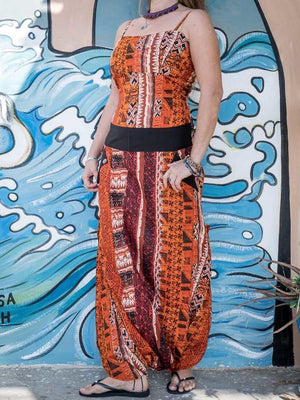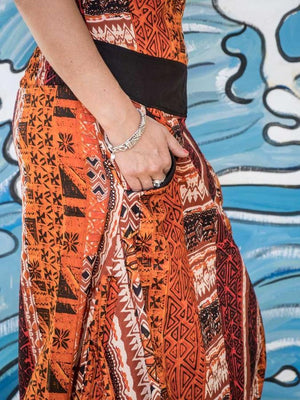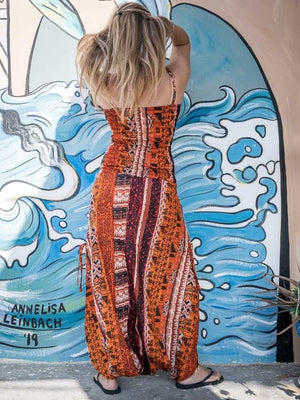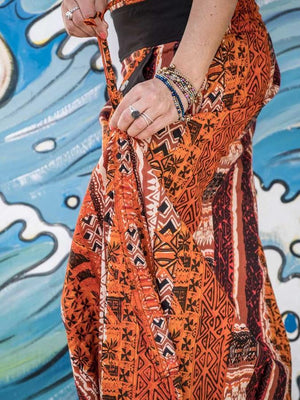 Elasticated on the back with low crotch trousers for all formal and informal occasions. 
Vaishali is the Aladdin dress because it has a trouser skirt with crotch at the ankles, elasticated on the back, it satisfies any ethnic taste!
They are becoming more and more fashionable: they are Jumpsuits, pant suits.
This one in particular might almost look like a skirt, but ... surprise!
In reality it is an Aladdin style trousers, without "strange" effects, but with two holes at the bottom from where your ankles will come out, giving you a harmonious and graceful line. This particularity in fact gives sinuosity to the dress that combined with the right accessories and shoes will transform it into elegant for formal occasions, while used in a practical and comfortable way it is adaptable to your daily life. The black waistband and the elasticated back wrap your shapes harmoniously. On what occasion will you wear it?
The characteristics of your Namastemood jumpsuit
Each Namastemood product comes from the love for the East, its fabrics and its colors; discover the details:
Lanyards to adjust the sides

Black waistband

Side pockets

Adjustable straps

Back elastic

Color: Black with orange geometric ethnic print

Fabric: 100% cotton

Washing: max 30 ° or delicate cycle

Origin of the fabrics: India

Processing: India
Our guide to a perfect size (and guaranteed!)
Age verification
By clicking enter you are verifying that you are old enough to consume alcohol.