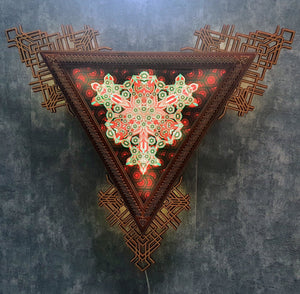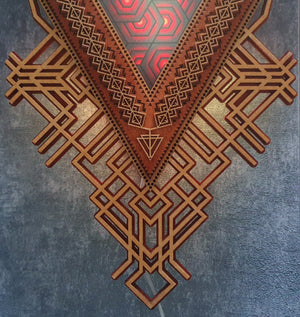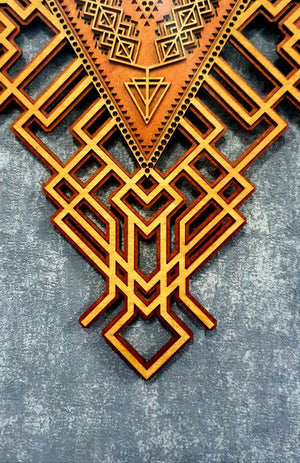 Free worldwide shipping!
ply wooden mandala wall art for home or studio decoration, great for outdoors as well.
Handmade Materials: birch plywood, fabric

Height: 85 centimeters
Width: 78 centimeters
Depth: 4 centimeters
 Tri-Angel is a Spectral RGB lamp made out of 4 layers of birch plywood and stained in Mahogany and Oak. It brings color and movement to any area of your home, that can operate as a lamp, art, or both. This piece is made of birch plywood and backlit fabric stained in decorative colors. It also features LED strips and a custom design controller. It is programmed as a long sequence with a lot of variation. What does this mean? You can lay down on your sofa or bed, relax, and enjoy the spectacle of movement and lights in your own space.
You can download the Instructions for programming your own color patterns here: https://www.dropbox.com/s/b0o4u2a67pvmtfl/DumbSeq%20instructions%20ALL%20PAGES.pdf?dl=0 
You can also choose a factory controller with several presets and a remote control With the remote control you can choose several programs, speeds, and static colors. The sequences are shorter and a bit more simple but the advantage is that you can remotely control the lamp. Please send me a message if you would like the factory controller.
Age verification
By clicking enter you are verifying that you are old enough to consume alcohol.