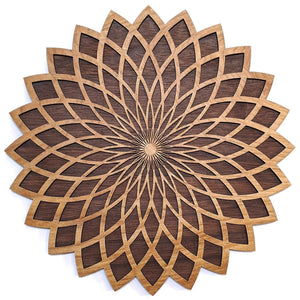 The Tube Torus is considered the first shape to emerge out of the genesis pattern. It governs many aspects of life including the human heart with its seven muscles that form a Torus. The Torus is literally around all life forms, all atoms, and all cosmic bodies such as planets, stars and galaxies. It is the primary shape in existence. This design is a further iteration, expanding the concept into a flower-like image. Designed by Shawn Kessler.
Laser cut from 2 layers of hardwood-veneered plywood, finished by hand and ready to hang with a laser cut wooden hanger on the back.
Please note that due to the natural origin of our hardwoods, the exact tone of and detail of each piece of wood will vary. Each piece is hand finished and hand selected to our quality standards, but we cannot control for any natural variation in the grain of the wood.
Created by LaserTrees. All of our hand-finished products are shipped from California, where they are produced as they are ordered. Please allow us a 1-2 week lead time to create and ship your order. 
Age verification
By clicking enter you are verifying that you are old enough to consume alcohol.