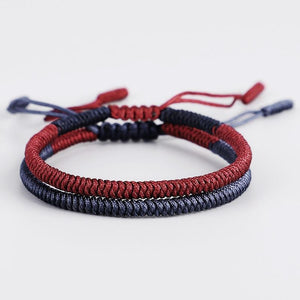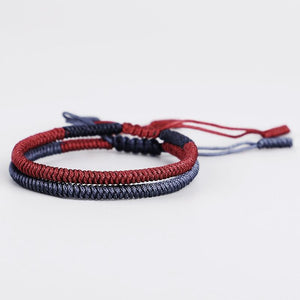 Trancentral's Tibetan handmade bracelet set will bring good fortune and blessings on your nomad adventures, thanks to their lucky knots. The set includes one red and one navy bracelet, which are made with cotton thread to ensure they are comfortable to wear. The bracelets can be worn as a set or on their own. Historically, the knots of string bracelets are tied while Tibetan Buddhist recite mantras to bless this sacred accessory.

Layer them with your other festival bracelets or give them to a loved one as a friendship or couple bracelet for protection, serving as a constant reminder of how much you care.

Signifying loyalty and fortune, the bracelets benefit from an adjustable fit.

The bracelets are a personal talisman of protection against all negative energies.
Details & Care
Made in China

Cotton thread
 Size & fit
Age verification
By clicking enter you are verifying that you are old enough to consume alcohol.