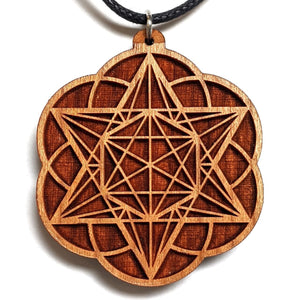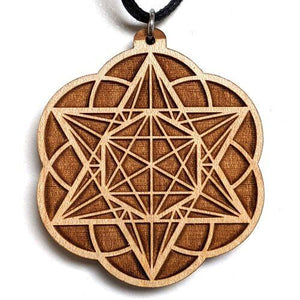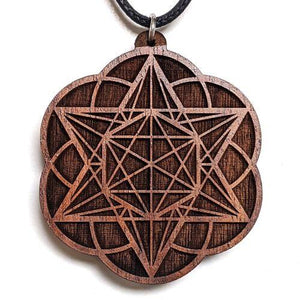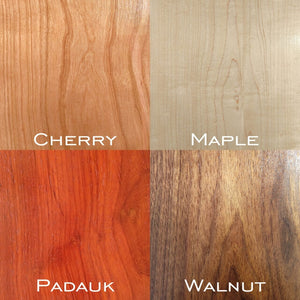 Customize this laser-cut hardwood pendant with the wood type of your choice! Choose between our hand-finished Cherry, Walnut or African Padauk hardwoods, each cut to about ¼" thick and contrast the natural beauty of the gemstones against the wood. Each pendant includes a free waxed cotton cord, tied into an adjustable slip knot. 'Star Tetrahedron Hexagon Seed of Life' is an original design by Shawn Kessler and measures about 2 inches tall.
The Cherry tree (golden brown wood) symbolizes strong expression, rebirth, new awakenings and compassion.
The Walnut tree (chocolate brown wood) symbolizes clarity and focus, gathering of energy and beginning new projects.
The African Padauk (lustrous orange-red wood) symbolizes power and strength, drawing from the element of fire, and is used for vitality and control yet with a constantly shifting energy
Created by LaserTrees. All of our hand-finished products are shipped from California, where they are produced as they are ordered. Please allow us a 1-2 week lead time to create and ship your order. 

Age verification
By clicking enter you are verifying that you are old enough to consume alcohol.