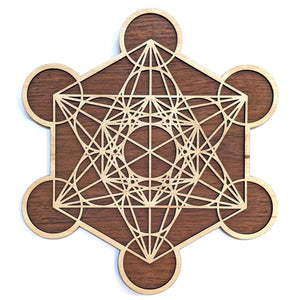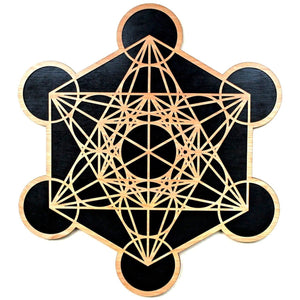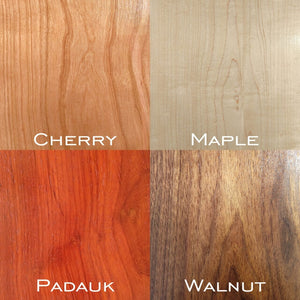 Metatrons Cube is a 3-dimensional cube containing all of the geometric shapes in God's Creation and represents the patterns that are found in everything God manifests. This complex sacred geometry structure is derived from the ancient design of the Flower of Life. In sacred geometry Archangel Metatron, the Angel of Life, oversees the flow of energy with a mystical cube known as Metatron's Cube.The series of connected lines form various shapes are referred to as Platonic Solids, which are said to be the origin of every design in the universe. These shapes are pyramids, cubes, octahedron, dodecahedron and icosahedron. These geometrical designs and shapes appear repeatedly in nature, which is why the ancient Greeks associated them with the five elements. Some other Ancient civilizations and mystics refer to it as the Map of Creation.
The Metatron Cube Wooden Wall Art piece is sacred art meant for spiritual meditation and connecting to Spirit. This art is hand-crafted and its design symbolizes balance, harmony, protection, healing and creation. It can be used as a spiritual tool to connect with the Divine and is a beautiful art piece for your space. Metatron Cube is said to be capable of attracting positive forces and dispelling negative energies. According to myth, the Angel Metatron created it out of his soul. 
Uncover the secrets of Creation and expel negative energy from your home with the Metatron Cube Wooden Wall Art.
⫸  A divine sculpture, aesthetically stunning designed art that brings Sacred energy into your home. A perfect addition for your Alter or Prayer space. 
⫸ Energy of Creation brings positive vibrations into your home, a potent tool for meditations and manifestations. 
⫸ A great gift for a dear friend or family member. Any special occasion, such as a birthday, anniversary, house warming or Holy ceremony. 
⫸ This is a unique Spiritual gift that is not just beautiful, but it's design has many mystical and ancient meanings behind it.
Wooden Wall Art Details
Lamp - 6.7in x 7.9in x 9.8 inches (17x20x25cm)
Power cord - 71 inches (180cm)
See our entire collection of Sacred Geometry Wall Art.
Free worldwide shipping.
Age verification
By clicking enter you are verifying that you are old enough to consume alcohol.