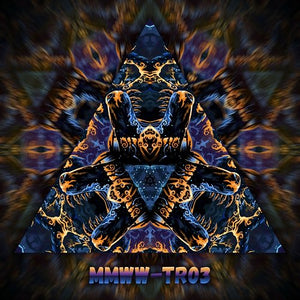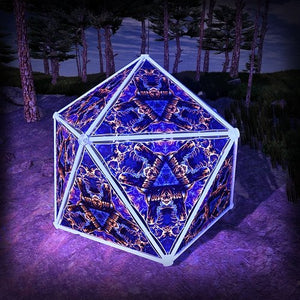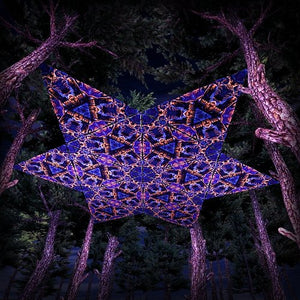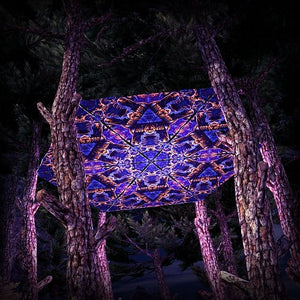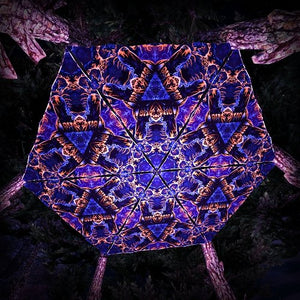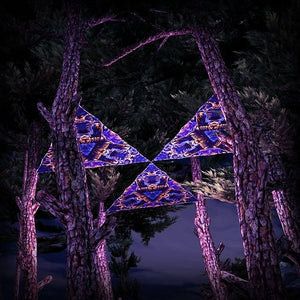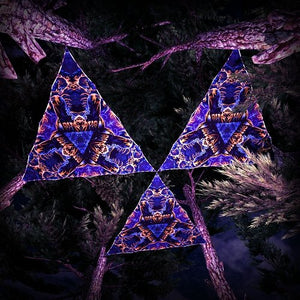 If you are going to build a decoration for a trance party or any other event that requires trippy psychedelic decor UV-Triangles are a great option to start. It's super easy to work with this simple geometry shape. Every triangle has:
Super-bright Full-UV-Print on lycra for an amazing psychedelic effect
Black rubber band going across the edge for extra sturdiness
6 loops – one on each corner and one in the middle of every side
6 carabiners for easy hanging
3 stoppers for adjusting the position of the triangle if you mount it

wireframe

.
10m/32.8′ of firm rope for mounting
8 hooked screws with dowels for building the wireframe
We have 4 size options:

🔥 1,27m×1,12m / 4,16'x3,67′ safe stretch (fits UV-Hexagon)
🔥 1,5mx1,3m / 4,92'x4,26′ safe stretch
🔥 2,25mx1,8m / 7,38'x5,9′ safe stretch (fits UV-Hexagram size M)
🔥 4,5mx3,9m / 14,76'x12,79′ safe stretch (fits UV-Hexagram size L)

⭐️ Full UV-Effect
⭐️ Printed on durable fabric
⭐️ Very easy to connect one to another
⭐️ Suitable for machine wash
Age verification
By clicking enter you are verifying that you are old enough to consume alcohol.