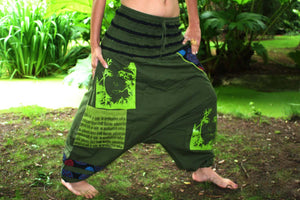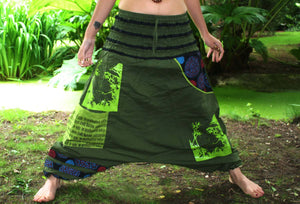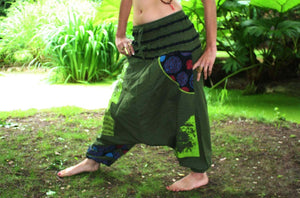 A pair of GREEN cotton harem / alibaba pants. The wide waistband has 3 black stripes. The right leg has 1 light green pocket with Hindu script print. The right leg also has 3 black stripes at the bottom with with blue and red flower detailing. Both legs also have a tree print that looks like a face.
Many fine details could not be captured in the images. 

Wide waistband for superior comfort and flexibility.
2 normal waist height pockets.
1 large exterior pocket.
Elasticated ankle bands.
Measurements - one size fits all.

Waist: Fully adjustable up to 38 Inches (95 cm)
Maximum leg length: 38 inches (95 cm)
See our collection of harem pants.
Age verification
By clicking enter you are verifying that you are old enough to consume alcohol.