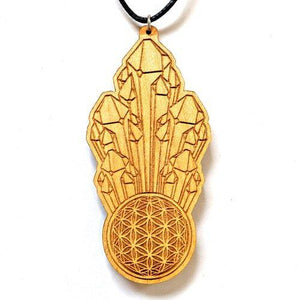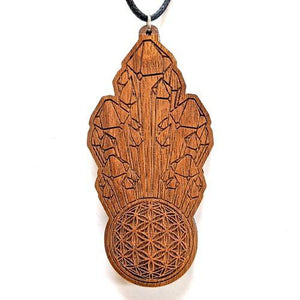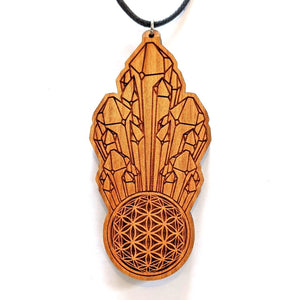 Customize this laser-cut and hand-finished hardwood pendant with the wood type and of your choice! Choose between our hand-finished Cherry, Walnut or African Padauk hardwoods, each cut to about ¼" thick and contrast the natural beauty of the gemstones against the wood. Each pendant includes a free waxed cotton cord, tied into an adjustable slip knot. 'Crystal Cluster Flower of Life Orb' is an original design by Shawn Kessler and measures about 3 inches tall.
The Flower of Life design is said to contain ancient, religious value depicting the fundamental forms of space and time. In this sense, it is a visual expression of the connections life weaves through all sentient beings, and it is believed to contain a type of Akashic Record of basic information of all living things!
Created by LaserTrees. All of our hand-finished products are shipped from California, where they are produced as they are ordered. Please allow us a 1-2 week lead time to create and ship your order. 
Age verification
By clicking enter you are verifying that you are old enough to consume alcohol.