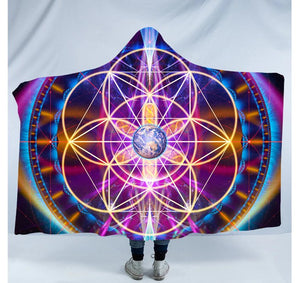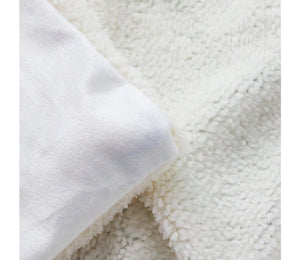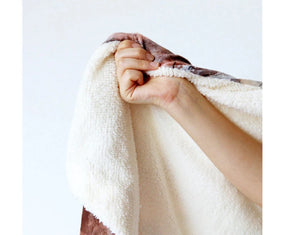 THE PRICE OF THIS PRODUCT INCLUDES FREE GLOBAL SHIPPING
This Flower of Life Blanket Hoodie features a vibrant design with original artwork by Aurelien Floret on one side and on the other, a warm & cozy Sherpa fleece. This Sacred Geometry Hooded Blanket is perfect for cuddling up on the couch in winter with your favourite book and a hot chocolate. These hooded blankets for adults are also great for meditation, as well as relaxing around the house, watching TV, reading a book or snuggling and cuddling by the fire. Our adult hooded blankets are perfect to keep you looking great whilst warm at festivals or even around the campfire, the perfect accompaniment for any camping or road trip. About the artwork on this Flower of Life Blanket Hoodie: This flower of life throw blanket features the sacred geometry artwork New Earth. This artwork incorporates the Flower of Life it is called New Earth, featuring the frequencies of Mother Earth - Gaia. By immersing ourselves in her pristine waters and allowing ourselves to be deeply held in the majesty of her forests ~ our bodies remember and re-attune to her infinitely loving embrace. Here in nature, we can truly rest and know that by simply being at one with her presence, we are co-creating a new Earth beyond the matrix. Based on sacred geometry, the Seed of Life, Flower of Life and Vector Equilibrium... This sacred geometry artwork represents the integration of polarities, accessing the next level of our evolution and consciousness as physical species embodying the sparkle of Divinity. These Sherpa hooded blankets are incredibly high quality and the print resolution / image rendering is fantastic. The blanket with hood is a visually stunning statement and due to the spiritual, visionary artwork, they uplift your energy whilst wearing them. They also make fantastic gifts; perfect for lovers of meditation, great for festivals & camping and for those who love cuddling up on the couch to watch tv or read their favourite book.
• Warm and comfy, plush sherpa fleece on the inside
• Digitally printed on the outside using premium waterproof inks, very wash durable & fade resistant
• Easy care machine wash on cold and tumble dry on low heat. Avoid direct heat. Do not use bleach
• To maintain the great colours it is advisable to add salt to the water for your first wash
• Due to screen resolutions, the colours may be slightly different in real life
• Please allow 1-2cm differences in size due to the handmade nature of our products
• Our hooded throw blankets are not mass produced, they are made to order
• Each hooded fleece blanket is imbued with positive energy and intentions

Size
Blanket Hoodie 59" x 78.5" (150cm x 200cm)
Age verification
By clicking enter you are verifying that you are old enough to consume alcohol.