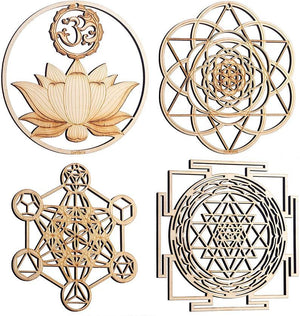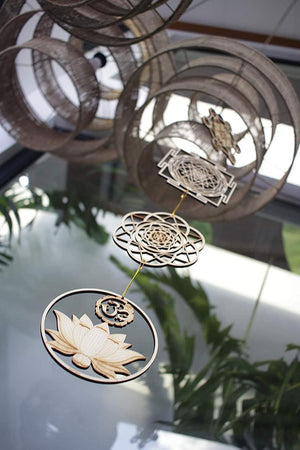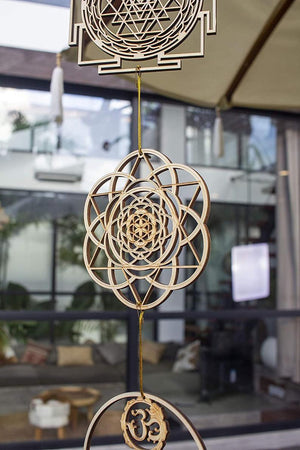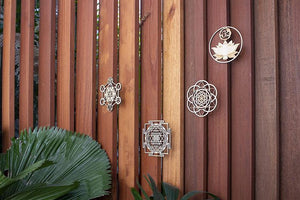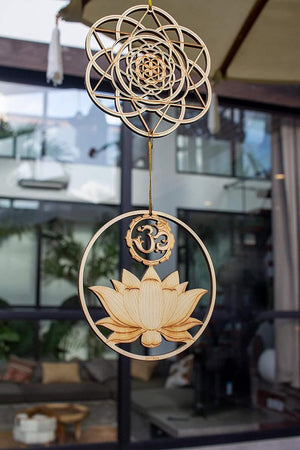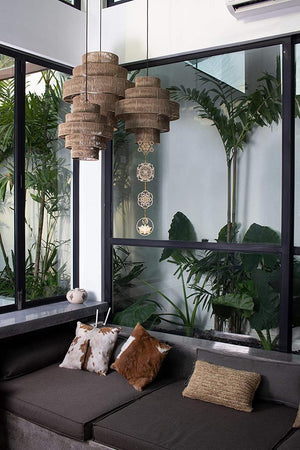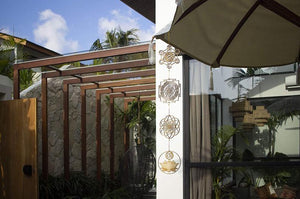 Sacred Lotus, Seed of Life, Metatron's Cube, Sri Yantra Wall Art - Yoga Hanging Symbol
- Wall Sculpture that Breathes Life into any space, Home, Office, Temple, Shrine or Sanctuary Altar

- Brings Positive Vibrations and Energy of Creation, Perfect for Meditation Practice and Manifestation

- Ultimate Crystal Grid for Sacred Rituals, Harmonizing Meditation Wall Art for Yoga Studio Decor

- Warm Gift of Gratitude and Appreciation for a Special Occasion, Birthday, Anniversary, Holy Ceremony

- Unique Spiritual Gift of Love to a Seeking Soul on a Divine Journey of Love and Light. Namaste

The Seed of Life is a believed to represent the universal symbol for the seven days of creation. The 7 circles depict 7 major energy centers - chakras, the colors of the rainbow, musical scales, & 7 planes of existence. Some believe that the Seed of Life forms a geometrical foundation of intelligent infinity and fractal nature of all Creation and consider it a symbol of blessing, protection, and fertility.
Metatron's Cube is a Sacred Geometrical symbol that forms a map of Creation and it is believed to originate from the Fruit of Life, which in turn originates from the Flower of Life, which in turn originates from the Seed of Life. Metatron's Cube contains Platonic Solids which by some are believed to be the building blocks of all physical matter in our physical reality. They appear everywhere throughout creation from crystals to human DNA.
Sri Yantra aka the mother of all Yantras represents the UNIVERSE on a Macrocosmic level and HUMAN BODY on a Microcosmic. Feminine & masculine, Shakti (DESIRE) & Shiva (MANIFESTATION), Antimatter (THOUGHT) & matter (MANIFESTED thought). Its ENERGY SIGNATURE RESONATES PERFECT HARMONY AND BALANCE all around it bringing PARTICLES IN SPACE and CELLS IN HUMAN BODY to ORDER. Whereas HAPPINESS, GOOD FORTUNE, PROSPERITY & ABUNDANCE are the RESULT of those. Sri Yantra CREATES PROPER SITUATION for the human to realize oneself as the CREATOR of one's own REALITY through connection with one's HIGHEST SELF - the SPIRIT of a human Soul, that which is the PURE EMANATION of its own UNIQUE CREATIVE vibrational FREQUENCY.
In Hinduism, sacred Padma lotus is associated with numerous creators, including Vishnu, Brahma, Lakshmi. The creators are depicted with lotus flowers as they represent purity and divinity. The lotus blooms uncovering the Creator Brahma in lotus position. Its unLotusding petals suggest the expansion of the soul. The growth of its pure beauty from the mud of its origin holds a benign spiritual promise.

Specifications
Laser cut from a high quality birch plywood.
Charged with love energy of the creator soul who manifested this symbol into this earthly plane.

Size: 5.31in wide by 5.31in height by 5mm thick.
Age verification
By clicking enter you are verifying that you are old enough to consume alcohol.